Regular price
$130.97 USD
Regular price
Sale price
$130.97 USD
Unit price
per
Sale
Sold out
View full details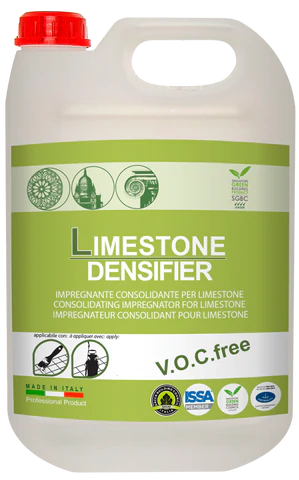 PRODUCT DESCRIPTION
LIMESTONE DENSIFIER is a water-based impregnating agent of the highest quality, specifically developed to speed up and simplify the mechanical sanding and polishing process of limestone and lime-based materials, which are more difficult to polish on account of their porous nature and their high capacity to absorb water.
LIMESTONE DENSIFIER is characterized by a 100% water-based, eco-friendly formula and for its lack of volatile organic compounds (V.O.C. Free), therefore, its use is not harmful to the environment or for the health of users, either during or after application.
LIMESTONE DENSIFIER, when used as part of the sanding and polishing process, offers various benefits: - It drastically limits water absorption on the floor and prevents all of the problems linked to excessive moisture in the stone; - It also speeds up the drying time required by the surface before it can be subjected to other processing or treatment. - It speeds up the mechanical sanding and polishing process, allowing the operator to treat larger surfaces within the same amount of time than would be possible on untreated materials, as it reduces the friction between the surface and the polishing tool. - It significantly reduces wear and tear to polishing tools as well as the amount of water needed to complete the job. - Material is given pronounced damp proof properties. - Surfaces become water-repellent - It reduces the possibility of dirt build up on the material - The performance of any stain-proofing product applied afterwards is significantly increased. - It also increases the results achieved by the polishing grain used.
The specific characteristics of this LIMESTONE DENSIFIER is that it penetrates the limestone deep down, guaranteeing tough, lasting protection against rising damp, which is responsible for most of the problems generally found with this material: persistent damp marks, formation of rust, flaking and pop-ups, and saline efflorescence, which are responsible for attacking the surface.
LIMESTONE DENSIFIER also does not compromise the original breathability of the surface, since it does not create any type of film or alter the original appearance of the material.
LIMESTONE DENSIFIER also increases a material's resistance to dirt and foot traffic, also making it possible to leave a matt, dirt-resistant finish on limestone surfaces that are generally very complicated to reach with traditional treatments.
LIMESTONE DENSIFIER is a definitive solution, as it can withstand the action of de-waxing products and it is also certified for contact with foods and therefore, is a valid solution for protecting kitchen worktops.
LIMESTONE DENSIFIER can be combined with a surface stain-proofer to achieve maximum performance; it will act as a primer to maximise the effectiveness and durability of the stain-proofing treatment applied successively.
LIMESTONE DENSIFIER is also recommended as a pre-installation treatment for limestone:- it is used as a 6-side, pre-treatment to prevent rising damp, leaving a high degree of protection without compromising adherence between the underside of the material and the bonding agent used, even in the event that stone can be installed with simple cement mortar or mechanical securing. - it is used as a 5-side, pre-treatment (top+edge) in the event that stone can be installed with top-quality mortar or mechanical fastening.
Approximate coverage per 5 Liters is 750 sq ft.